Self Service
Enable customers to find their own answers
Introduction:
The reality of most helpdesks is that the same question can be asked over and over again. DeskPRO's knowledgebase allows your agents to build a database of questions and answers. Your users can then search this database for answers to their own questions, receive suggested articles when they email your helpdesk or your agents can reply with the content or a link to an article. The net result is a reduced number of tickets, quicker and consistent answers to questions by agents and saved time and cost in providing excellent support.
As well as a knowledgebase, DeskPRO includes a news publishing system that keeps your users updated to recent news. A system to manage files is also provided for those organisations with lots of attachments (e.g. brochures/manuals/drivers) you want to allow your users to download. The software also includes a glossary; define terms specific to your organisation once – and users can view a definition the first time the term is used in any content your agents create.
A knowledgebase as viewed from the User Interface
Features: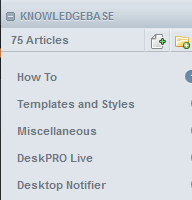 Knowledgebase Categorisation
Knowledgebase articles are grouped into categories, and an article can be listed in multiple categories. DeskPRO supports unlimited depth of knowledgebase categories, particularly useful for large databases. It is also possible to define the order the categories are displayed in.
---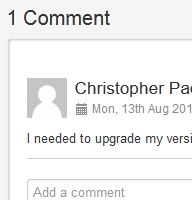 Comments
You can enable user comments on your knowledgebase, news and files. You can require comments to be validated before publishing or auto-publish user comments. Comments to your content help improve the content and increase the value of the database of content your team has built.
---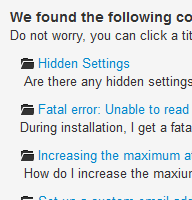 Pro Active Search
A feature you can enable automatically searches the helpdesk for matching content when a user submits a ticket. With relevant content in your knowlegebase, this can drastically reduce the number of tickets your helpdesk receives, saving your agents time.
---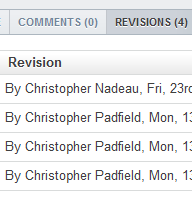 Revision History
Every time a change is made to a knowledgebase article, the old content is saved. You can easily view changes made to content, and if you make a mistake 'roll back' to the previous revision of the content.
---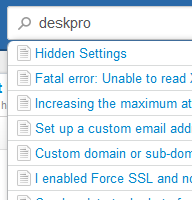 Search Engine Optimization (SEO)
DeskPRO's user interface has been designed to maximise SEO benefits to your site. Unique, high quality content can result in significant increase in visitors to your site and DeskPRO maximises these benefits by using search engine friendly URLs, generating sitemap files and structuring content correctly.
---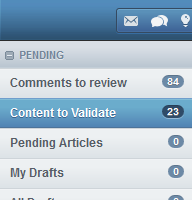 Content Validation
You can use permissions to require agent content authors to submit their content for validation to agents with relevant permissions prior to publication. This ensures that content published to your helpdesk meets your strict content quality guidelines but allows more junior agents to write content prior to proof reading.
---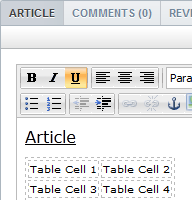 WYSIWYG Editor
DeskPRO includes a full WYSIWYG (what you see is what you get) visual editor to make crafting knowlegebase articles simple for everyone. Your agents will never need to write HTML or learn any markdown language.
---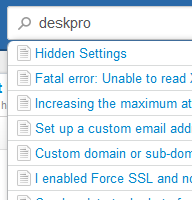 Search
DeskPRO includes a powerful search engine for finding content. Your users enter their search terms and the system matches these phrases against the database. DeskPRO supports look ahead search where search results begin to appear before the user has even finished entering their search term.
---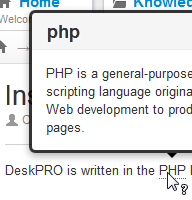 Glossary
The glossary allows your agents to define terms your users may not understand in one place; all your self service content will then have the first occurrence of this content linked to the glossary definition.
---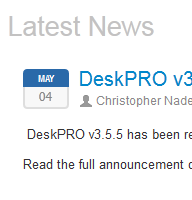 News
DeskPRO's news feature allows your agents to publish chronologically ordered news content. Like knowledgebase articles, news content can be categorised and your users can comment (if you enable comments) on the published items. You can specify for content to be removed automatically after a specific period of time.
---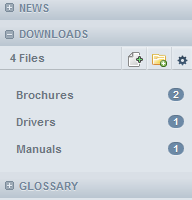 Downloads
The downloads system is designed for companies with a number of files they want to make available to their users. Like knowledgebase articles, files can be categorised and your users can comment (if you enable comments) on the published files.
---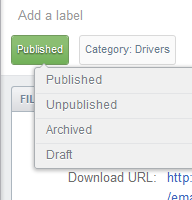 Draft Content
Knowledgebase content can be saved as a draft prior to publication. Your agents can safely work on an article over multiple sessions, waiting until the article is fully complete before the content is published.
---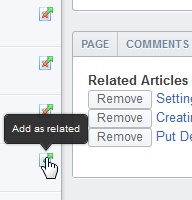 Related Content
DeskPRO allows you to quickly link content together, for example linking related knowledgebase articles together, or link a knowledgebase article to a download.